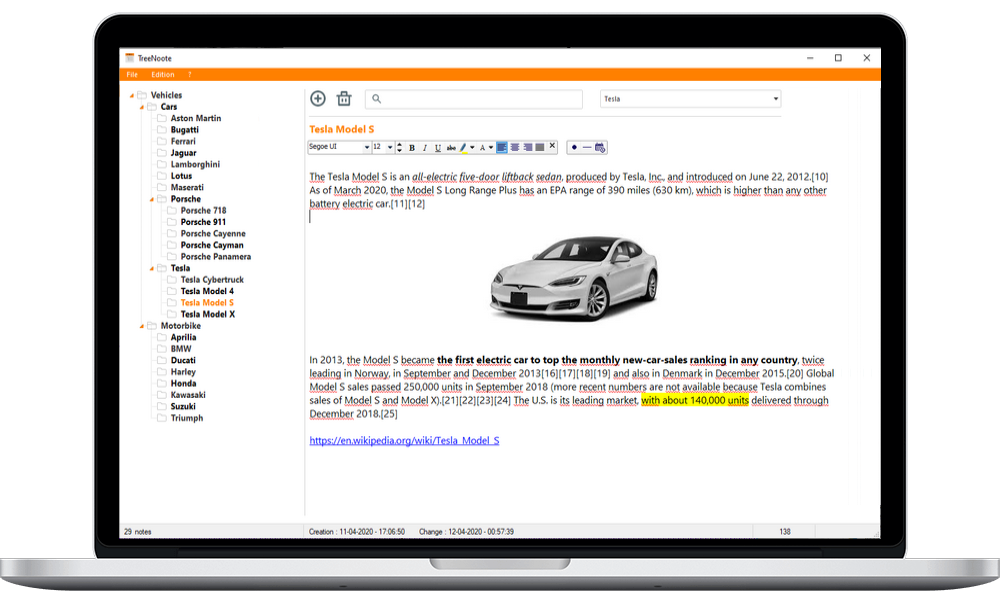 Full-Text Search
Simply start typing in the search area. Immediately the records found are displayed in the treeview, with a count of the cards found at the bottom left.
Backup
For even greater security, TreeNoote can save your data each time the software is launched, store them where you want and keep the number of backups you want.
And of course you can choose to restore your backed up data at any time!
Password Protection
You can choose to protect the use of TreeNoote with a password ... and ask that TreeNoote ask for it again after a period of inactivity.
Advanced Content​
Place images, photos, rich text and links in yours notes.
Synchronized or Not...
With Treenoote, you choose the place where your notes are stored.
On your computer, on a USB key or in a folder synchronized in the cloud ... It's up to you.
PDF
Export your notes in PDF format.
Print
Print function with preview, page selection, color or black and white mode, printer selection ...
Portable App
TreeNoote for Windows does not use an installer. All the files required to run the application reside in a single folder. If you move the folder, the application will always work the same way. For example, place it on a USB key, and you can use it from one computer to another. TreeNoote leaves no footprints on the PCs on which you run it.
Rich Text Editor
Integrated rich text editor: choice of font, bold, italic, highlighted, alignment, bullets, line, insertion of time and date ...